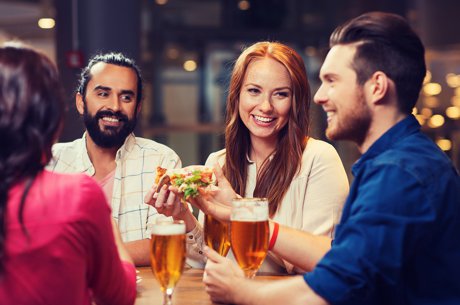 Eat your way across the globe near spring valley real estate. When cravings will not be denied there are plenty of eateries and restaurants to satisfy the urge. Whether hankering for Italian, American or Asian all kinds of cuisine are seemingly just around the corner.
A bit of Italy serving up hearty portions with flair can be found at Settebello Pizzeria. Pizzas are hand crafted and tossed perfectly into a wood fired brick oven. The pies here are robust and filled with flavor. Settebello's is definitely not a 30 minute delivery joint and the food is a bit more sophisticated. Favored pies include the Vico which combines red onion, wood oven sausage, sauteed fennel, mascarpone, extra virgin olive oil, basil and mozzarella. Also ranked as a top customer pick is the Capricciosa which features artichoke hearts, crushed tomatoes, roasted mushrooms and prosciutto cotto.
Find A Plethora of Dining Option By Spring Valley Property
Eatt Healthy Food offers vegetarians a plethora of options too delicious to pass up. The menu at this casual gourmet eatery is filled with loads of vegan, dairy and gluten free items. Locals love to feast on the miso-marinated wild caught salmon with beets, apples and soy.
When it's time to spice things up Asian is the way to go. Hobak Korean BBQ works with a motto of "sharing good things" with an abundance of tasty short ribs and skirt steak. Friends from Spring Valley property gather regularly for happy hour at the Yonaka Modern Japanese Restaurant. Pairing a handcrafted cocktail with tuna tataki or cobia ceviche is a wonderful way to end the workday. Over at Fukuburger Japanese style blends with American. Juicy burgers earn rave reviews, and have even been dubbed "the best burger in Las Vegas". Diners relax at Chada Thai and Wine. The wine menu contains over a 100 high quality wines. Toasts ring out over intimate dinners and quiet lunches.
For those still indecisive on what sounds good for dinner an award winning line up of restaurants by Spring Valley property in Las Vegas can be found here.